The Tithe Barn at St. Mary's Priory
History, Heritage and Education!
The Tithe Barn is a fully restored barn dating from the 12th century. It's part of the St Mary's Priory complex and houses their food hall, shop, education centre and exhibition.

The exhibitions and varied and interactive, chronicling both the history of St Mary's Priory and the historic market town of Abergavenny. The adjoining food hall offers great meals locally sourced, and includes Caldey Island chocolate! Perfect for families, history buffs or those who just want to learn more about their local history, you will not be disappointed!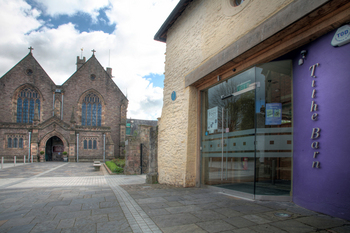 Exhibits include:

- Interactive 3D model of the barn.

- 1,000 years of Abergavenny history.

- Tales of Abergavenny's most colourful characters.

- The magnificent Abergavenny tapestry, hand woven in the millenium by local residents.

After your visit, why not refresh yourself with a visit to their Food Hall, where you can enjoy a true taste of Wales. Or browse their shop, which stocks a wide range of quality gifts, souvenirs and local history publications.
The Learning Service offers school workshops, family learning activities and events, pre-booked guided tours and much more.

Guided tour of Church and Tithe Barn with two course lunch
£14.95

Guided tour of Church and Tithe Barn with Welsh cream tea
£9.95

Book your guided tour now by contacting the Manager, Richard Morgan, on (01873) 858787
For much much more information, visit the website!

website link
The Tithe Barn at St. Mary's Priory Statistics: 8 click throughs, 844 views since start of 2023
Attraction in
Abergavenny
Monmouthshire
Entrance Charge

Free unguided
Guided tour of Church and Tithe Barn with two course lunch - £14.95
Guided tour of Church and Tithe Barn with Welsh cream tea - £9.95

Opening Times

10am - 4pm

The Tithe Barn at St. Mary's Priory

Monk Street

Abergavenny

Monmouthshire

NP7 5ND

UK

Our Website

News & Special Offers