The Nelson Museum & Local History Centre
Horatio Nelson was born in Norfolk, died at sea and is buried in London, yet Monmouth has one of the world's best collections of Nelson material. Learn about the life, loves, death and commemoration of the famous Admiral, the origins of the collection and Monmouth's history.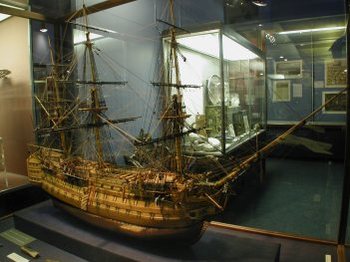 The Nelson collection includes both personal and commemorative material, and is particularly noted for the large number of personal letters. Star exhibits include Nelson's fighting sword, and a selection of outrageous forgeries, including Nelson's 'glass eye'.
The Nelson Museum & Local History Centre Statistics: 9 click throughs, 761 views since start of 2023
Attraction in
Monmouth
Monmouthshire
Entrance Charge

Opening Times

Mar-Oct, Mon-Sat 11am-1pm & 2pm-5pm; Nov-Feb, Mon-Sat 11am-1pm & 2pm-4pm (Sun 2pm-4pm)

The Nelson Museum & Local History Centre

Priory Street

Monmouth

Monmouthshire

NP25 3XA

UK

Our Website

News & Special Offers