Monmouth Canoe & Activity Centre
Canoeing the Wye
Be you an experienced canoeist or a wide-eyed novice, the River Wye offers the perfect experience on the water. Float past scenic Monmouth, glide along the Cathedral City of Hereford & battle the rapids at Symonds Yat.

Come and enjoy yourself in the Wye Valley, an Area of Outstanding Natural Beauty!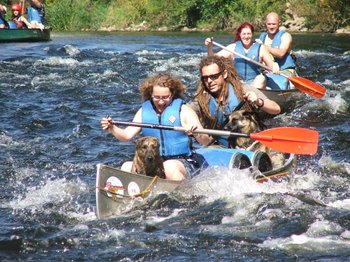 Monmouth Canoe & Activity Centre Statistics: 11 click throughs, 829 views since start of 2023
Water sports

in

Monmouth

,

Wye Valley
Tariff

Check website for latest prices

When?

Mar-Oct

Contact Details

Monmouth Canoe & Activity Centre

Manager/ Contact Person: Sue & Graham Symonds

Castle Yard, Old Dixton Road

Monmouth

Monmouthshire

NP25 3DP

UK.

Our Website

News & Special Offers

Canoe hire – Qualified Centre hiring canoes on the River Wye. Canoes/singles/double kayaks with transportation provided. Guided tours, BCU courses (see website for dates). Corporate/team-building, problem-solving/raft-building, rock-climbing/caving for all groups including stag and hen parties.

Half-Day, Full-Day, weekend or full week, the choice is up to you!